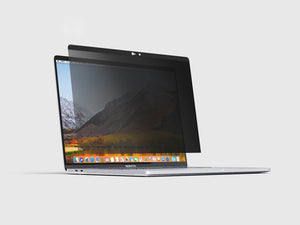 moonimal
Self-screen - Privatizing Filter for Macbook Pro 15,4"
Sale price Price $49.90 Regular price
Tax included.
With magnetic mount and built-in Camera Blocker.
Take care of your privacy no matter where you work!
Why is it worth investing in a privatization cover?
Nowadays, we more and more often work on our laptops in public places such as cafes and restaurants, airports, railway stations, co-working spaces or public transport. By allowing our screen to be visible to strangers, we risk theft of confidential data such as login details, financial information or personal data. As a consequence, we may be robbed of our savings, deprived of access to our profiles on social networking sites, or be exposed to the disclosure of our clients' data.
How it's working?
The privatization filter uses an innovative micro-shutter technology that directs microscopic channels perpendicular to the user so that he can see the image fully. The person using the equipment can see everything, but from all other angles, third parties can only see the screen in a uniform dark color.
Product advantages:

Quick to remove and install (with a magnet)
Minimalist design that perfectly matches Apple hardware
Very thin filter and frame - do not interfere with closing the laptop
Made of non-fingerprint material
Additional benefits:

Eye protection against blue light
Reduction of light reflections on the screen
Additional screen protection against damage
Built-in movable shutter for the webcam
Kit components:

Screen privacy filter dedicated to the Macbook Pro 15,4"
Protective filter case (for safe filter storage when not in use)
Microfiber cloth for cleaning the laptop screen and filter
Premium packaging
The filter is packed in a designer, black envelope made of recycled cardboard with an embossed moonimal brand logo.

Compatibility:
Macbook Pro 15,4" / 2016-2021