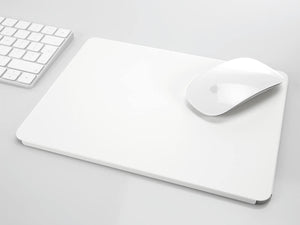 moonimal
PureShape mousepad for Apple Magic Mouse - White
Sale price Price $49.90 Regular price
Tax included.
PureShape™ Mousepad is a top quality mousepad designed especially for the Apple Magic Mouse.
The combination of a refined mousepad and a special mouse add-on - SmartSlider™, makes friction minimal and gives the impression of the mouse floating on the surface of the pad.
Minimal friction means:
Perfectly smooth mouse movements
Work in silence (no more scratchy noises)
Better precision (no more jumping cursor)
_________
The mousepad is made of the highest quality materials: laser-cut steel sheet finished using the sputtering method and beautiful light-grey foam with anti-slip properties.
_________

The refined package includes:
WHITE premium mousepad 
2 x SmartSlider

(compatible with the first-, the second- and the third-generation of MagicMouse).
Unlock the full potential of your Apple Magic Mouse!
See how it works (30 sec. video):