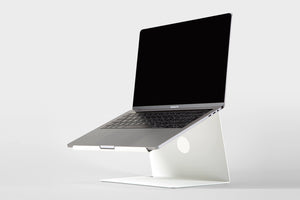 moonimal
Steel laptop stand
Sale price Price $69.00 Regular price
Tax included.
- Minimalist design
- Made of laser-cut powder coated steel sheet
- Non-slip gray rubber at the bottom
- Gray erasers on the surface that is in contact with the laptop
- The stand lifts the laptop to a height of about 16 cm / 6.3 in

The stand significantly improves the ergonomics at work (forget about the aching neck) and looks great on the desk.

The white-gray color perfectly matches the Apple brand products.



Made in Europe.