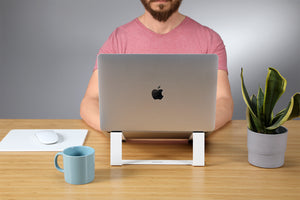 moonimal
Ergonomic Laptop Stand - Basic - White
Sale price Price $49.90 Regular price
Tax included.
BETTER ERGONOMICS
Position your laptop at eye level to:
enjoy better ergonomics at work

avoid neck and back pain thanks to the correct body position

make video calls from a better perspective
MORE EFFECTIVE COOLING
Lifting the laptop above the desk surface allows for better airflow around the computer, which has a positive effect on its work.
The fans will make less noise, and a lower CPU temperature will extend the battery life.
POLISHED DESIGN
Minimalist design perfectly suited to modern laptops.
The product is made of one piece of steel, thanks to which the stand has adequate stiffness and its surface is devoid of joints.
Gray silicone elements protect the laptop from scratches, and those on the bottom of the stand prevent the stand from accidentally moving across the desk.
The stand is the perfect complement to any Macbook and laptops of other brands.
Fits 13 '' and 15 '' laptops.
WORK ON YOUR iPad
The stand has been designed so that you can comfortably work with Apple tablets: iPad, iPad Air and iPad Pro (11 inches and 12.9 inches) *.
*not for iPad Mini
CREATE A COMPLETE WORKPLACE
Create a comfortable workstation by placing your laptop on the ergonomic Moonimal stand and connecting a mouse to it.

You will not need an additional keyboard because the height of the stand allows you to comfortably type directly on the laptop keyboard.
You can also connect a desktop monitor and enjoy comfortable work on two screens.
If you use an Apple Magic Mouse, the PureShape Mousepad by Moonimal will be a perfect complement to the set.
TECHNICAL DATA
height: 9 cm / 3.5 in

width: 25 cm / 9.8 in

fits 13- and 15-inch laptops

fits iPad, iPad Air and iPad Pro

maximum weight of the laptop: 2.5 kg

material: steel, silicone

White color