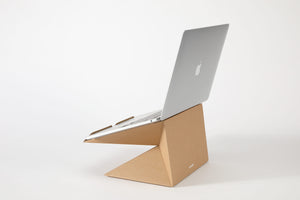 moonimal
Cartonica - Ergonomic Laptop Stand
Sale price Price $13.90 Regular price
Tax included.
This ergonomic laptop stand is a moonimal workspace product designed for those who love the pleasant combination of simplicity in design and practicality of use.
Cartonica Laptop Stand is a unique product made of cardboard.

If you've been wondering, this cardboard structure has been designed to safely carry even heavy laptops.

Our design has been strongly inspired by the modernist architecture represented by Le Corbusier and Marcel Breuer, and the Japanese art of origami.

As a result, we created something that has a charming raw look and great usability.

Since we're as environmentally conscious as you, we made the stand from 100% recyclable materials.

And if you love building, we're sure you'll have a lot of fun assembling the stand yourself.

Let's help you bring something new to your workspace!

Kit includes:
stand base
self-adhesive strips
anti-slip foam pads
solid cardboard insert
assembly instructions
Technical data
height: 6.3′′ / 16 cm
width: 9.4′′ / 24 cm
depth: 9.6′′ / 24.5 cm
fits 13′′, 15′′ and 17′′ laptops (all brands)
maximum weight of laptop: 5 kg/11 lbs
material: cardboard 385g/m2